While our website address is dropcloth.com, Clean&Safe product lines provide complete surface protection unlike a canvas drop cloth. Our Clean&Safe® and Clean&Safe Pro® protect hardwoods, stairs, carpet, counter tops, and cabinet faces from dirt, debris, moisture, and paint.  SurfacePro® provides breathable protection for newly finished floors.
Used by Renovators, Restoration Professionals, Painters, General Contractors and More
Many independent contractors use our Clean&Safe products at their job sites since our products serve multiple uses from start to end. From the front entry-way to the stairs, Clean&Safe® and Clean&Safe Pro® keep job sites and people safe with their skid-resistant feature. Both products absorb liquids and are leak proof while still being lightweight and portable.
Breathable Surface Protection
If you need protection for newly finished hardwood, stone or tile floors, SurfacePro® supplies breathable surface protection. Even if you are working in a humid or non-climate controlled site, SurfacePro® will allow moisture to escape and not damage those newly finished floors. This product allows the floors to cure while contractors are still working on the job site.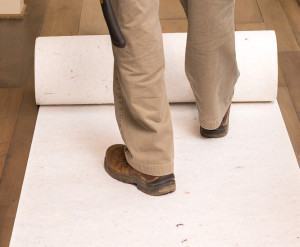 Multi-Purpose for Multiple Job Sites
Clean&Safe® and Clean&Safe Pro® are the most effective and economical solutions for all surfaces that do not need to dry or cure. Because they are multi-purpose, contractors can clean and reuse at the current job site or use at a future one.
A regular drop cloth doesn't keep your floors Clean&Safe. To learn more about which product works for which job type, visit our product page on our website.