When winter arrives, do you stop working until spring? Of course not! Your work continues even when snow, ice, and freezing rain appear. Make sure that you protect your job site's surfaces and your workers from wintery elements by using Clean&Safe® or Clean&Safe®Pro.
Stop Winter at the Door
You can quickly unroll Clean&Safe® or Clean&Safe®Pro starting at the door and place it throughout your job site. Both products will absorb the slush and mud as you make trips back and forth to retrieve supplies. Let our products protect your job site's floors for the entire length of the job and keep the flooring safe with their skid-resistant capabilities.
Complete Surface Protection at Your Job Site
Clean&Safe®  and Clean&Safe®Pro both feature an absorbent top layer of post-consumer recycled fibers, backed with a leak-proof and skid-resistant bottom layer to protect any surface from dust, accidental spills, damage, and winter.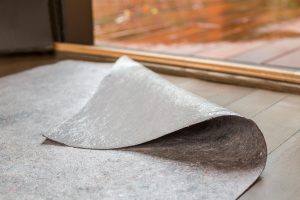 Take Advantage of a Special Offer
Recently, KS International mailed a special offer to our customers. With winter approaching, you can now take advantage of the same offer. Get 10% off on purchases of $300 or more of Clean&Safe® or Clean&Safe®Pro. Use coupon code fall10off before December 7, and start your next job Clean&Safe.  Visit our shopping page to place your order.