When starting a new job, how do you protect your job site surfaces?  Do you have a go-to surface protection product, or do you just wing it with a basic covering and tape directly to the surface? Make sure that you use a trusted surface protection product, or your project cost could sky rocket and take more time.
Remember, nothing with a sticky surface should ever be used directly on the floors or surface that you are protecting. While tape holds a surface protection product to a floor, tape could also leave residue or damage a floor's finish upon removal. Who wants to add more cost to a project if the floors have to be refinished or a surface has to be totally replaced?
Clean&Safe® and Clean&SafePro® drop cloths are safe to use on any surface including hardwood, vinyl, ceramic, tile, carpet and marble. The skid-resistant bottom layer protects any surface from dust, accidental spills and damage. Since our products are designed to grip the floor whenever pressure is applied, there's really no need for them to be taped to the floor.
We do suggest taping floor protection seams as an extra precaution to prevent dust or liquid from going between two pieces. Simply overlay the product by two or three inches, then tape the seam with a wide blue painter's tape.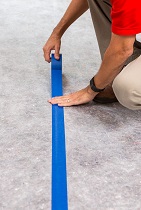 When your job is finished, the tape should release easily without damaging our products so you can use them again.
If your next job involves protecting your floors, stairs, or counter tops, get the right surface protection with our line of products. Visit our product page to see which product works best for your job.